Unsolicited – Trader and Trader Trainee
Jobtype & start time
Full-time, Ongoing
Deadline
31.12.2022. We will be screening candidates on an ongoing basis.
About Danske Commodities
We are a tech-driven energy trading company that trades power, gas and certificates across 40 markets. Working for a viable energy future, we use our trading expertise to connect producers and large-scale consumers to wholesale markets.
Vacancy
Unsolicited – Trader and Trader Trainee
Danske Commodities is a leading energy trading house driven by some of the most successful trading teams in Europe. We are always looking for the best traders and traders in the making.

Energy trader
As an energy trader, you quickly become responsible for your own projects and develop trading strategies and as a trader trainee, you will learn the fundamentals of energy trading, which include power, gas and certificates. Depending on your level of experience, you will perform market analyses and make daily trading decisions of varying magnitude. When joining our trading business, you will work side-by-side with energy professionals from all over the world, who share a fiery passion for what they do and a tenacious drive to challenge the status-quo.

Areas of energy trading
We primarily trade in power and gas markets. Danske Commodities is a leading player in energy trading and we use our unrivalled market access to capture opportunities. Trading 24/7/365, we rely on our strong data analysis capabilities and first-rate dispatching setup to compete in forward, day-ahead and intraday markets. And with Equinor in our corner, we have the necessary financial strength to break down the door to new markets, add scale and increase risk taking with stronger credit lines. Joining forces with one of the world's leading energy producers, we also gain unparalled access to assets, unlocking new growth potential.
We offer
professional and skilled colleagues, who set the bar high
great opportunities for individual development
flexible working hours
numerous social and professional events incl. sporting events and parties
an office in the heart of Aarhus, next to the central train station
Responsibilities
trade energy across global markets
conduct, evaluate and act on market analyses
develop trading strategies and tools
ensure business procedures remain optimal
contact and trade with bilateral counterparties
provide correct and updated core data to all systems
Qualifications
We expect that you:
have a relevant master's degree within Finance, Economics, Mathematics or similar
have profound experience with Excel
preferably, have knowledge of macro programming – but not a requirement
have a good command of English both written and verbal
know an additional language is an advantage, but not a requirement
Personal skills
We expect that you:
are proactive and not afraid of taking responsibility; to maximise value, you need to challenge the status-quo
are able to analyse, reflect and act fast; you need to thrive in a hectic environment with fast decision-making
employ a holistic approach to your job, where you have an eye for the market risk but also find it natural to evaluate other factors in your analyses
are an open-minded team player who brings a positive spirit to the team
Not the right fit for you? We might have something else that proves to be a better match.
Get in touch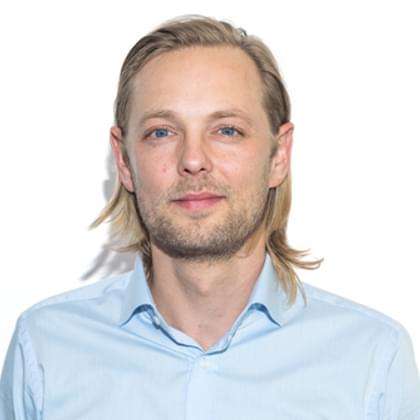 Mads Le Fevre
Manager, Head of Intraday Proprietary Trading
+45 8833 8000