Business developer to support our renewables business in the US
Location
Stamford, CT, USA
Jobtype & start time
Full-time, As soon as possible. We will be screening candidates on an ongoing basis
Deadline
19.08.2022. We will be screening candidates on an ongoing basis.
About Danske Commodities
We are a tech-driven energy trading company that trades power, gas and certificates across 40 markets. Working for a viable energy future, we use our trading expertise to connect producers and large-scale consumers to wholesale markets.
Vacancy
Business developer to support our renewables business in the US
Are you looking for an opportunity to work at the forefront of renewable energy projects and support our strategic business development? And would you like to work in an international setting together with highly skilled energy professionals, supporting a global energy trading company? Then you might just be the colleague we are looking for to join our US Power Trading team!
Danske Commodities (DC) in the US
DC is a wholly-owned subsidiary to Norwegian energy company Equinor, operating under our own name and brand. We act as Equinor's route-to-market for renewables and ensure their renewable energy projects become a profitable business. As our new business developer, you will join our US Power Trading team, which is based in Stamford, Connecticut. In the team, we trade energy products in all organized regional power markets of the US.

We are a team with diverse educational and professional backgrounds, spanning from experienced traders, electrical engineers and quantitative minds to problem solvers and entrepreneurs. We believe in a collaborative approach to trading based on transparency, honesty and continuous development.

A tech-driven trading team
At the US Power Desk, our goal is to implement proprietary trading strategies in the markets we participate in. Backed by solid analytics, sound risk management and a high degree of automation, data and technology lie at the core of our trading. On a daily basis, we work shoulder-to-shoulder with our parent company Equinor, developing and assessing commercial business opportunities between DC and Equinor within renewable energy projects.

Your journey as our new business developer
Starting out, you will get a thorough introduction to the team, your tasks and our synergies towards Equinor. Once you have gained a solid understanding of our business model, you will participate in developing and assessing commercial business opportunities for DC in the US and play a significant role in the collaboration with Equinor. Down the road, you will become responsible for ensuring clear alignment and communication in the development of renewable energy projects as well as facilitating our annual and long-term strategy and business planning processes.
We offer
the best of both worlds – you will join a nimble trading company, backed by global energy major Equinor
professional and skilled colleagues, who set the bar high
global career opportunities as part of the Equinor group with +20,000 colleagues across the world
flexible working hours
an international environment with a collaborative culture
modern office next to Stamford train station
Responsibilities
execute the power trading desk's strategy and structure the planning process
support the development and implementation of new business opportunities
support Equinor in the development of renewable energy projects in the US, with a focus on the route-to-market strategy
conduct ad-hoc market- and competitor analyses to strengthen our strategy and business development
Qualifications
we expect that you:
have a relevant educational background within e.g. Business Administration, Finance, Economics – or STEM fields
have 3-5 years' experience from relevant commercial or financial roles
have an interest in the energy markets, trading, and/or renewable energy projects
Personal skills
we expect that you:
are innovative and analytical – you will work on your own projects and analyses, and we expect that you are always looking to optimize things where possible
have a data-driven and structured approach to solving problems, as you will work with various cases that require thorough analyses to contribute to decision making
are outgoing and have solid stakeholder management capabilities – even though you will work independently, you will collaborate with a wide range of stakeholders in the organization
have a positive attitude: no job too big, no job too small – the pace is high, but we always take the time to support and guide each other
Not the right fit for you? We might have something else that proves to be a better match.
Get in touch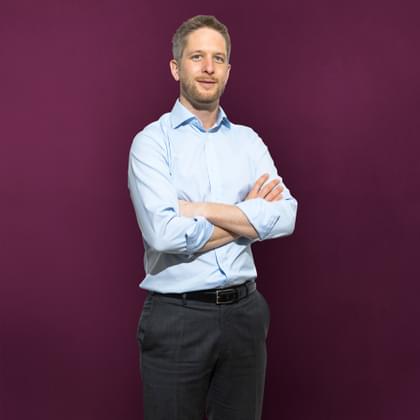 Maarten Jan Manders
Manager, Head of US Power Trading
+45 2677 2768