Power trader
Jobtype & start time
Full-time, as soon as possible.
Deadline
29.09.2022. We will be screening candidates on an ongoing basis.
About Danske Commodities
We are a tech-driven energy trading company that trades power, gas and certificates across 40 markets. Working for a viable energy future, we use our trading expertise to connect producers and large-scale consumers to wholesale markets.
Vacancy
Power trader
Are you newly graduated or about to graduate? And would you like to kickstart your career in a global energy company? Then you might be our new colleague for our Intraday Power Trading team! Here, you will gain valuable insights into tradable commodity markets and put your skills to the test on a high-paced trading floor.
Intraday Power Trading at Danske Commodities (DC)
As our new trader, you will join DC's Intraday Power Trading team which trades power 24/7. As of now, power cannot be stored in large quantities, meaning the market is highly volatile – which also means that we operate with a very short lead time. Besides trading, we continuously analyse the market and look for new opportunities which, potentially, can be fed into the advanced algorithm setup we use when trading.
The team is characterised by trust, openness and transparency. We always support each other – and we rely on each other to be able to run a 24/7 trading setup. We are a team of highly motivated people who always aim for great results, and who always look for ways to become better at what we do.
Your journey towards becoming an energy trader
We will take good care of you as you learn the ropes, develop your coding skills and make your way on the trading floor. During your first three months, you will be properly introduced to the team and how the short-term power market works. It won't be long before you get behind the trading screens, as we believe this is the best and most efficient way to learn. Starting out, you will be assisted by a mentor and after a short period, you will be participating in the 24/7 shift scheme independently. In time, you will work on developing new trading strategies by using your understanding of coding. You will also be given responsibility for your own specific trading area and become a mentor for new traders.
We offer
professional and skilled colleagues, who set the bar high
great opportunities for individual development
numerous social and professional events, incl. sporting events and parties
an office in the heart of Aarhus, next to the central train station
Responsibilities
optimise DC's portfolio, including wind, solar and consumption
trade power across Europe and help handle Intraday Power Trading's portfolio in active grids
conduct, evaluate and act on market analyses
develop trading strategies and tools based on a quantitative setup in collaboration with other teams
participate in the team's 24/7 trading shift scheme
Qualifications
we expect that you:
have a relevant education within Finance, Economics, Mathematics or similar (or are about to graduate)
are interested in trading and bring motivation to the floor
know the basics of coding in SQL, R, Python or similar
are proficient in English – both written and verbal
Personal skills
we expect that you:
thrive in a dynamic environment with fast decision-making – the team trades on a very short-term notice, which means that you must be able to keep a cool head
are able to analyse, act fast and reflect. In the job, you will conduct many analyses to be acted on, but most importantly, you should be able to reflect on the decisions made – only then will we become better tomorrow than we were today
are a collaborative person who brings great motivation to the team
are curious and innovative and appreciate a great amount of responsibility
Not the right fit for you? We might have something else that proves to be a better match.
Get in touch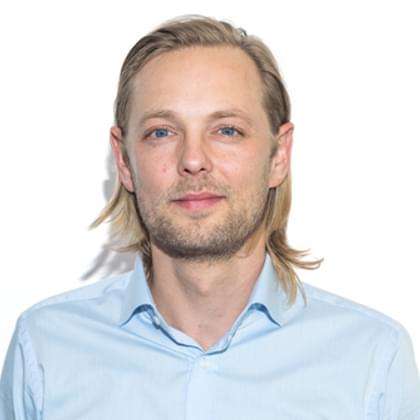 Mads Le Fevre
Manager, Head of Intraday Proprietary Trading
+45 8833 8000