Experienced quantitative analyst for Risk Modelling
Jobtype & start time
Full-time, As soon as possible.
Deadline
06.12.2022. We will be screening candidates on an ongoing basis.
About Danske Commodities
We are a tech-driven energy trading company that trades power, gas and certificates across 40 markets. Working for a viable energy future, we use our trading expertise to connect producers and large-scale consumers to wholesale markets.
Vacancy
Experienced quantitative analyst for Risk Modelling
Are you an energy professional, looking for the next step in your career? And would you like a job with a direct impact on the business – while working side-by-side with dedicated colleagues? Then you might be the experienced quantitative analyst to join our Risk Modelling team!
Risk Modelling at Danske Commodities (DC)
As our new quantitative analyst, you will join our Risk Modelling team in which we work to provide the necessary foundation for our Market Risk Management team to obtain complete risk control of the trading activities in the organisation – and we do so by calculating critical risk measures for all business activities. The figures are included in daily risk management and reporting and combined, they form the basis for capital and risk allocation in DC. We always seek to expand the in-house framework for performing quick and agile risk assessments of new potential business cases.
We are a team of dedicated specialists, supporting the organisation by building and overseeing models that calculate our business risks. The team culture is distinguished by being collaborative; we work best when working towards a common goal. We share the mindset that no task is impossible, and we always seek to improve our existing solutions to be the best in the game, sparring with each other as we go along.
Your journey as our new quantitative analyst
Starting out, you will get a thorough introduction to the team, your tasks and your key stakeholders. Your main area of responsibility will be our in-house model library which contains functionality and models used for calculating market valuations and risk metrics. You will be maintaining and enhancing the functionality available for the Market Risk Management team to keep up with the growing and evolving volatility-driven business. You will experience a lot of professional freedom and flexibility in how you plan and carry out your work, and you will quickly see how your modelling development will impact and support the growth of the business.
We offer
professional and skilled colleagues, who set the bar high
great opportunities for individual development
flexible working hours, including the opportunity to work from home up to two days a week
numerous social and professional events, incl. sporting events and parties
an office in the heart of Aarhus, next to the central train station
Responsibilities
steer the development of risk measures and valuation models of our portfolio of structured products
perform ad-hoc analyses to support business cases and risk management framework
develop quantitative analyses, e.g. stochastic analyses and optimal hedging strategies
develop and maintain the team's quantitative model library
Qualifications
we expect that you:
have a relevant educational background within e.g. Mathematics, Economy, Finance or similar
have a minimum of two years' experience from a similar position in the energy industry – e.g. in risk management or trading
have programming experience in Python, R, .NET, SQL or similar
are proficient in English – both written and verbal
Personal skills
we expect that you:
take responsibility in the team to drive things forward and challenge the status quo
approach any problem with a structured solution-oriented mindset, as you will act in a dynamic environment
are independent and innovative – but also thrive with cooperating with colleagues and stakeholders across an international organisation
Not the right fit for you? We might have something else that proves to be a better match.
Get in touch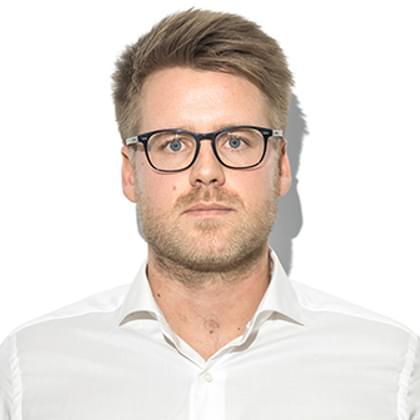 Mikkel Graversen
Manager, Head of Risk Modelling
+45 31 39 22 31