DC Annual 2021
A defining year for energy markets
In
2021
, energy markets saw unprecedented volatility, which drove prices up by more than
400
% across power and gas markets.
Market participants were faced with increased risk and an extreme pressure on liquidity to make margin calls.
Navigating these market conditions, Danske Commodities helped bring balance and liquidity to energy markets while delivering strong results.
Strong performance in defining year for energy markets
Danske Commodities delivered adjusted EBIT of EUR 272 million in a year with unprecedented market volatility. Extreme weather events and a faster-than-expected economic bounce-back from Covid-19 combined with low gas storage levels resulted in historically high energy prices, which created both opportunities and challenges for energy market participants.
03.
Energy markets
&
business highlights
Price developments in 2021
Unprecedented price volatility across energy markets
In 2021, European energy markets saw unprecedented price volatility across commodities. By the end of the year, prices were spiking at record highs, producing price levels times ten. A combination of strong recovery in demand, extreme weather events, unplanned supply outages and underperforming Russian gas deliveries into Europe created a perfect storm for the tightest gas market in recent decades – and unprecedented volatility in energy prices.
2021
price developments and main drivers
Power (German day-ahead)
Gas (TTF day-ahead)
EUAs
Faster-than-expected bounce-back from Covid-19
Faster-than-expected bounce-back from Covid-
19
Lockdowns were lifted, industries ramped up and the demand for energy increased. Meanwhile, Asia was caught off guard by cold weather in January, resulting in record-high spot
LNG
prices and very low deliveries into Europe.
Extreme weather events fuel gas demand
Extreme weather events fuel gas demand
Hydro-dependent energy markets like Brazil and Turkey were hit by drought, increasing the call on gas-fired power generation. At the same time, Europe experienced an extended winter period, stretching all the way into April, postponing any major gas storage injections well into the usual injection season.
Lowest gas storage levels in a decade
Lowest gas storage levels in a decade
The average storage filling rate in the
EU
was
47
.
5
%, the lowest in a decade for this time of year and
33
percentage points lower than at the end of June
2020
.
Dependency on Russian natural gas
Dependency on Russian natural gas
Europe relies on Russia for
35
% of its natural gas consumption, making European energy prices sensitive to unplanned incidents, including in August when a processing plant near the western Siberian city of Novy Urengoy caught fire, halving transports to Europe via the Yamal-Europe pipeline.
Low winds across Europe
Europe's largest wind producers Britain, Germany and Denmark harnessed just
14
% of installed capacity – almost half of the usual output for this time of year.
Phased-out conventional assets switch back on
Phased-out conventional assets switch back on
Low output from renewable energy sources and high gas prices meant that some coal-fired power plants had to be switched back on, including the Radcliffe
2
coal unit in the
UK
.
Cold weather enters the mix
Cold weather enters the mix
Temperatures were below average across Scandinavia and northeastern Europe, with Sweden having its first colder-than-average December since
2012
.
Nuclear reactors shut down
Nuclear reactors shut down
Nuclear operations issues in France shut down
3
GW
without warning, which led to record price surges in the forward power market.
Certification process of Nord Stream 2 suspended
Certification process of Nord Stream
2
suspended
The
EU
sanctioned Russia for military activity, adding to the tense political climate and low import of natural gas from Russia.
J

an

F

eb

M

ar

A

pr

M

ay

J

un

J

ul

A

ug

S

ep

O

ct

N

ov

D

ec
Business activities
Bringing energy to where it's needed most
Danske Commodities realises the full potential of energy resources by offering energy-related services to customers and trading power and gas in global energy markets.
Europe
Europe is the cornerstone of Danske Commodities' business. Active in
37
European countries, we trade power, gas and certificates and offer hedging, optimisation and balancing services to producers, suppliers and large-scale consumers. For European markets, we have a strategic ambition to advance automated trading in power and gas and increase asset-backed trading activities.
Building on a successful market entry in
2019
, Danske Commodities is continuing to grow in the
US
. Current activities cover transmission, cash and term trading across five ISOs.
US
markets are key to our strategy, with the goal to grow the power desk, leverage our algorithmic trading setup and build energy market services over time.
Brazil
Supported by our parent company Equinor, Danske Commodities is building a presence in Brazil. With the ongoing liberalisation and influx of renewables in combination with market reforms, we can apply our expertise within power trading and management of renewables assets. Going forward, our strategic ambition for the Brazilian market is to establish a dedicated power trading desk, offer energy market services and act as route-to-market for Equinor's renewables assets.
Australia
Australia marks Danske Commodities' first expansion outside Europe. Our main activity is financial power trading, and we are currently exploring new opportunities to expand our business.
Singapore
Having recently established a trading hub in Singapore, Danske Commodities is building its presence in the Asian-Pacific region based on a strategic ambition to expand power trading activities as the integration of renewables in the energy mix unlocks growth potential.
People
People like no other
In 2021, our people navigated safely through unprecedented market volatility – and a pandemic – and together we delivered outstanding results. As our people are an essential driver of Danske Commodities' success, we strengthened our focus on providing every employee with tailormade opportunities to grow by having interesting tasks, responsibility from day one and highly capable colleagues. This also resulted in continued record-high employee motivation, with a score of 81 out of 100 in our annual people engagement survey, placing Danske Commodities significantly above the top-in-class benchmark.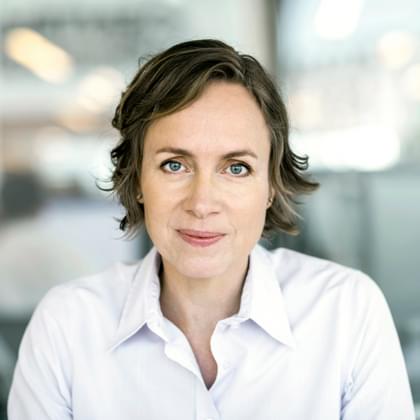 with a master's degree or higher
Sustainability
Making a difference