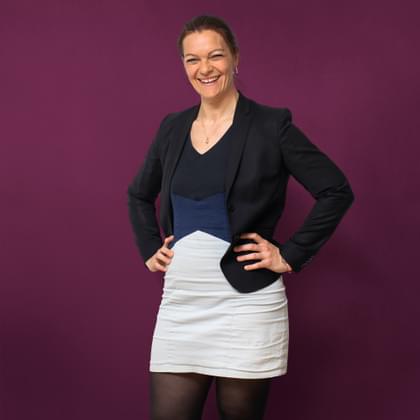 Business development
Astrid Storm Graversen
Head of Data Engineering
Education
Master's in Information Technology
Fun fact
I'm an amateur opera singer
My background
I have always been interested in a lot of different - seemingly unrelated - things, so on my journey to Business intelligence I have been singing opera, studied German and Business administration, been an aerobics instructor and been a physics and mathematics teacher at a boarding school until I met my husband who convinced me to study something within technology.
Why I wanted to work for DC
First of all, I like being part of a success, and I really believe DC lives up to that tag. DC is both successful in making money and in taking really good care of the employees. Secondly, I appreciate the competitive environment and the flat organisational structure. I also love the dynamic and fast paced environment where everyone's ideas are valued and put into action. I appreciate how we help and continuously challenge each other, in one team and across different teams. DC really cares for the employees' well-being and there is space to balance your ambitions with your life situation.
What I do
Data availability and quality is crucial to DC's success in the market, and the whole business therefore depends heavily on the Business Intelligence (BI) team's ability to deliver and maintain the data needed. I have the grand overview of all BI tasks not part of a bigger project. This accounts for roughly 70% of the BI work at the moment. I am responsible for coordinating all BI tasks across business teams to make sure we always deliver on the most important tasks first and work as efficiently in the BI team as possible. I am the business' first entry to BI and help them qualify and also challenge their requests before they are created as tasks in our backlog. My most important task is to keep my BI colleagues busy by filling up their pipeline and keep the business happy by communicating with them what and when we are delivering on their requests. Furthermore, I am responsible for the well-being of our growing Polish team.
My typical workday
On a typical day, I start my day reviewing the deadlines for tasks in the pipeline and 'nagging' my colleagues with questions about estimates and progress of their assigned tasks. Around 10, I have a Skype status meeting with our Polish developers. Throughout the day, I create and follow up on tasks and usually have a handful of meetings with different stakeholders across the business. When I have space in my calendar, I spend it on optimising our processes around reporting and task solving, stakeholder management and general communication and collaboration across teams.
The best part of my job
Firstly, when I get to deliver chocolate to my team members and different stakeholders in the company to thank them for their effort and collaboration. Secondly, when I can give my colleagues exciting and challenging tasks that provides a lot of value to the business. And thirdly, when we can help each other across teams to lift tasks that would otherwise fall to the ground.