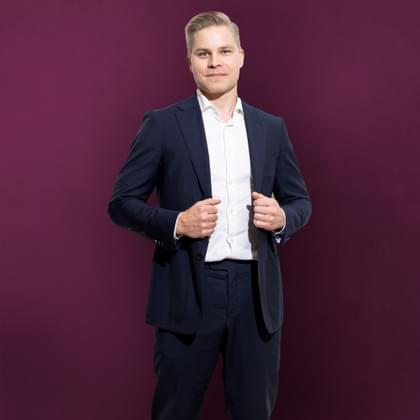 Risk management
Janne Väisänen
Head of Market Risk Management, Power & Certificates
Education
Master's in Economics
Fun fact
I can't play badminton since I lose both the game, my temper and my racket
My background
Born and raised in Nastola which is the best location in Finland when you want a careless and active childhood close to the nature. I engaged in many kinds of sports during my childhood and still love competing. I am actually a returning employee in Danske Commodities being the first, but not last, Finnish employee here.
Why I wanted to work for DC
The real question is why I wanted to come back to DC? The answer is simple: culture.
What I do
Market Risk Management has a crucial dual role in being a business guardian and business partner. In the first role, we have to assure that market risks we take are controlled, measurable and fit to company risk appetite. To back this up, market risk needs quantitative analysis and transparency to be in place. As a business partner, market risk has to ensure with other business units that resources and development tasks are allocated towards the best possible risk adjusted outcome to the company.
My typical workday
DC is a company operating in a such a field that very few days are alike. What I can state is that many common features in days and tasks include improvement of status quo, aligning expectations and offering transparency. Various trading units offer talks related to mandates, markets, future business prospects and all of these have to be balanced carefully.
The best part of my job
I can name a few. Daily interactions with my team, various units and the sense of improving items across the board. It's inspiring to engage with competent and insightful colleagues.