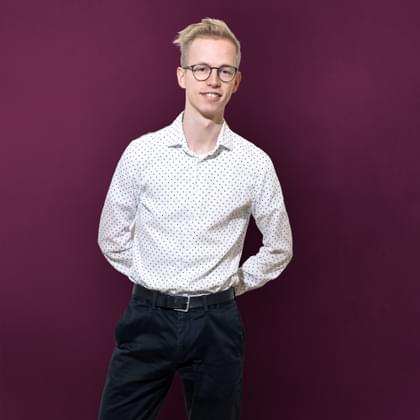 Tech
Joakim Berg
Process Improvement & Automation Consultant
Education
Economics & Business Administration
Fun fact
I do voluntary work for a pro nuclear environmental organisation
My background
In my gap years between high school and university, I started learning the basics of programming simply by taking a process from my job at the time and trying my best to automate it. Soon I found myself working on LEAN projects and heading a pilot concept for RPA (Robotic Process Automation). Almost by chance, I had discovered one of my biggest passions: process improvement and automation.
Why I wanted to work for DC
I wanted to work somewhere I can unleash my potential and grow professionally and DC seemed like just the right place for that. Furthermore, DC seemed like a company that embraces the fast pace and at times hectic nature of the energy trading business without making compromises with the philosophy that going to work should be fun. These initial assessments have all turned out to be true.
What I do
I work as a Process Improvement & Automation Consultant in the Technology unit where I help stakeholders across the entire DC value chain by improving and automating tedious, manual and repetitive tasks which frees up their time to do more specialised and analytical work. An energy trader should spend most of their time trading and shouldn't waste precious minutes updating Excel sheets, gathering data or documenting trades. Using automation tools like RPA, I help maximize the value creation of employees in DC.
My typical workday
Usually, my workday is a nice mix of collaboration with colleagues and independent work where I get to focus on solving a task. The collaboration part could be stakeholder meetings, sparring with colleagues, issue-handling or engagements with other teams in DC where I help uncover new automation potential. The independent work is where you deep dive into the details of a solution, i.e., understanding the nitty gritty details of the process, generating a solution design and programming the solution.
The best part of my job
The best part about my job is the personal development that comes as a natural biproduct of the great responsibilities that you are trusted to handle, as well as the careful and competent supervision from immediate managers. I feel like I am constantly expanding my competencies – both professionally and socially.