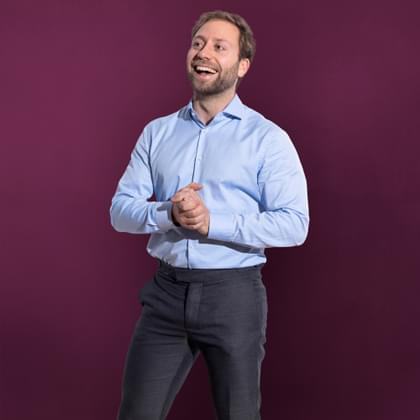 Trading, automation & analysis
Tim Kummerfeld
Head of Intraday Power Trading
Education
Master's in Energy and Environmental Management
Fun fact
At the age of 18, I won the German championship in Kitesurfing
My background
Ever since I was a teenager, I have been addicted to energy through the wind and the sun. Being a watersports enthusiast, I found the volatility and complexity of (renewable) power markets extremely exciting. After completing my Master's degree in Energy and Environmental Management at Flensburg University in Germany, and doing some internships within German utilities, my career began in Denmark as an intraday trader. I was so motivated to sit behind 15 screens and have the responsibility to swing big volumes. However, after a year I realised that I would like to get a broader understanding of our full business, and an opportunity as a portfolio manager opened up. Being a link between trading and origination was the perfect fit for me and it really helped me connecting the dots of what a value chain is all about. Four years later I joined DC.
Why I wanted to work for DC
When DC was acquired by Equinor I saw my chance to become an active contributor in the energy transition. I want the future to be green, and I always believed that this can only be achieved when the oil majors start recognising that value can be generated with renewable energy. Being part of this journey is challenging, yet exciting, and I cannot wait to see where we are in a few years from now.
What I do
I am Senior Commercial Business Developer. As the title suggests, my job is to develop business cases for new markets or products and be a part of increasing DC's trading footprint across market- and product offerings towards customers. We work together with trading and origination departments, and have a close connection with the senior leadership team. Further we are DC's focal point for all interactions with our big brother Equinor.
My typical workday
I typically start my day around 7 to 7:30, which mostly leaves me until 9:00 to catch up on mails and do some quiet work. After 9, not one day equals another. What my days do have in common are a lot of meetings and alignments with stakeholders. These meetings could, for example, be about an improved strategy around power purchase agreements (PPAs) or developing trading models for derivatives in a new market. My job requires the ability to shift quickly from one topic to another, organise myself and communicate clearly. Mastering this split motivates me a lot and I learn every day because I get in contact with many different departments.
The best part of my job
I absolutely love the freedom and responsibility in DC. In Commercial Business Development we hardly have any top-down steers, but we are expected to be pro-active. We can explore the next exciting market or product and we are given trust to develop DC in the right direction. Further, my job is not about creating theoretic PowerPoint slides. We can actually do business development with 'skin in the game' and have some trading mandates in new markets to prove that value can be made.