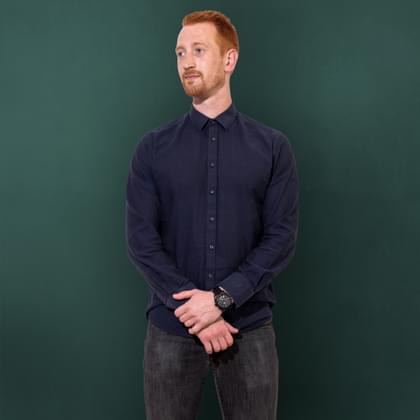 Tech
Mathias Holsko Jespersen
Junior Software Developer
Education
Computer Technology
Fun fact
My GPA rose with more than 300% from primary school to high school
My background
I have always been drawn to technology, possibly because my dad has been working in the same field since I was a kid. I tried to read his books about programming long before being able to understand much in them. That, I believe, awoke my curiosity from an early age on. I did have years of not being a fan of school and, like many others, I had some tough teenage years but quickly turned it around when I was able to choose what subject I wanted to immerge myself in. For as far as I can remember, I have been helping my family out with everything from packaging wine with my grandfather to fixing gardens, but I always dreamt of working with software. Later, I studied and gained a bachelor's degree in software technology at Aarhus University, and today, I am studying a master's in Computer Technology.
Why I wanted to work for DC
Before I began my studies, I had been self-studying software and cyber security in my free time, participated in some hackathons and was extremely eager to learn a lot more about software. On my second semester of the bachelor's, I saw a job opening on LinkedIn, which I thought was a perfect opportunity to get some real-life experience working for a highly respected company, as school assignments rarely provide the depth of actual job tasks. Another aspect was that I wanted to prove to myself that I could do this job and furthermore saw it as a golden ticket to kickstart my career.
What I do
I work in a team called ACE which is an abbreviation for "Advanced (data) Collection Engine". As the name suggests, we provide solutions for gathering data from multiple sources, e.g., from the internet. My responsibility in ACE is to develop the software that automates the process of gathering data, supporting solutions we already have as well as building new tools and working on the framework. We're constantly evaluating this process and moving towards enhancing the solutions which, thus, require me and the rest of the team to work closely together in the process, as well as deploying and making them a part of the existing infrastructure in DC. The process of doing so involves some system administration, programming in multiple languages, deployment, developing and supporting solutions of different magnitudes, etcetera. An example of a project that I have worked on which is not directly linked to gathering data is the internal "FURY" surveillance and supporting tool which I started developing during my internship at DC.
My typical workday
On a typical work day I start out by following up on open tasks to see if new information has been brought up. Later, we have a team meeting which we use to keep each other updated as to what might change, challenges we're currently facing that others might have experience with and simply informing others on what we're currently working on. If we have alarms of failing processes, my workday may entail support through bug hunting and patching the error. It may also include meetings with other teams such as Business Intelligence to align our expectations or requirements and of course to immerse in coding and finding or developing a solution. The development process varies a great deal depending on the complexity and size of the project but still frequently involves drawing on a whiteboard or a piece of paper while debating the best approach to the task.
The best part of my job
The best part about my job is the great variation of challenges that I get to go head-to-head with daily along with some amazing and talented colleagues. I get a kick out of solving tasks that I find to be unmanageable or complex at first.