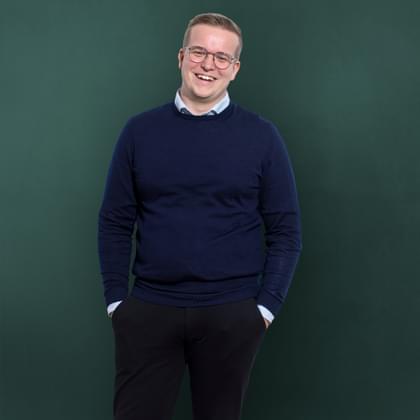 Finance
Thor Brigsted
Junior Business Controller
Education
Finance & International Business
Fun fact
I've made my own dinner table, sideboard and coffee table
My background
I was born and raised in a small city outside Vejle called Brejning. Later, I moved to Esbjerg while studying Financial Management (Finansøkonom). In 2020, I then moved to Aarhus to study a bachelor's in Economics and Business administration and now I am doing my master's in Finance and International Business. Former employments have been in several housings for physical and mentally handicapped people. I also worked as an event handler for Study-in-Esbjerg, a nonprofit organisation for students in Esbjerg.
Why I wanted to work for DC
I was looking for a company that could provide me with work related to my studies, as well as opportunities for development both professionally and personally. Luckily, DC is capable of all of that. Since joining, I've only been confirmed in that DC was the right choice for me with its great emphasis on employees and its focus on developing people within what they're good at rather than locking one in a specific job. As a student employee, DC knows that school has first priority and thus provides flexible working conditions which works very well for me.
What I do
As a Junior Business Controller my primary task is to support the Business Controlling team with various task. I also work on many projects with the goal of optimising business processes such as aligning our internal data with the counterparties or maintenance and development of different finance tools. I am also responsible for the DC Student Employee Network where we host events for the student employees internal at DC.
My typical workday
I have very flexible hours, but I like to work scheduled. As I do a lot of coding and have many projects across the team, I find it most productive to work many hours in a row, and fewer days during the week. A workday typically includes meetings with stakeholders, aligning project scopes and updating involved stakeholders along the way. My primary area of focus is our Power Markets, but I also work closely with other Business Controllers supporting different areas of the business. As one of the organisers of our DC Student Network, I have to make sure that the events we plan for all of our student employees are planned and executed. I also have to keep track of new student employees to ensure awareness of our network. It is a great responsibility that I enjoy, and also a privilege as a student employee to have a company that puts time and effort into our development.
The best part of my job
The best part of being employed in DC is being part of a great company that strives to improve its people. My leaders have shown a lot of trust and I've been given major responsibility, and these are values that make working for DC fun and challenging. Independence is very important in my daily tasks which also means I feel that my work is useful for the team. Having said that, people are always more than willing to help which is nice when I undoubtedly need it from time to time.