Diogo's guide to Portugal
If you are planning a trip to Portugal, this article is a must-read. Here, our Portuguese colleague Diogo Brenner Fachadas gives you his recommendations and best travel advice when visiting continental Portugal – including where to hike mountains, where to take a swim and even where to spot international celebrities.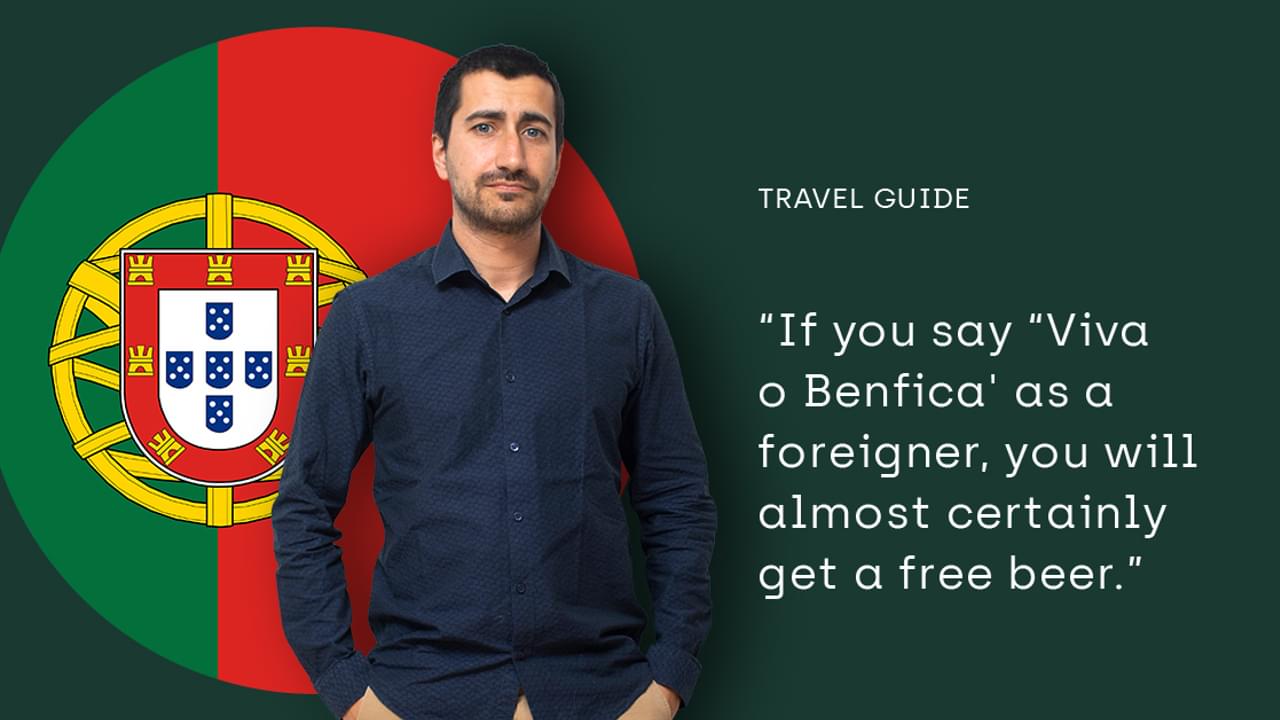 What places are a must-see?
If you are more into hiking trails and mountains, definitely try these:
Piódão – Near the Serra da Estrela (Continental Portugal highest peak: 1,993 meters) Is a collection of very old and rustic villages with trials in between them, as well as waterfalls and rivers from which you can drink the water (Portugal's most famous bottled water is sourced from this mountain, which has lots of natural springs).
National Park of Gerês Portugal's biggest nature reserve, very close to Spain's border on the north. Wild horses, wild boars, deer, foxes, a wide variety of waterfalls and tiny lakes that seem like private jacuzzis in the middle of nature.
If you are more into sunny and beach destinations:
Tavira In the famous southern Algarve region, a fishing village, far from the more touristy Algarve, with some of Portugal's best beaches both to the east and to the west. Also, one of my favourite places in Portugal to eat fresh fish (which is common all around the coastline in Portugal), but here, they just do it in a very special manner.
Comporta If you are into a more glamorous lifestyle, and would like to perhaps ride a horse on the beach or catch some waves with worldwide celebrities, than Comporta beach is the one for you. Comporta is a beach, which makes part of a long stretch of sand (almost 45 km) from Troia to Melides. The beach is very good, and also the surroundings are very quiet and secluded.
Honorable mention The entire 'Costa Vicentina', the whole southwest coast region of Portugal. Wild beaches and nature parks. Much less touristy than the Algarve, with colder water, but bigger beaches and more nature.
Cities to visit (if you want to escape the already famous, but very worthy, Lisbon and Porto):
Coimbra (Very old city, the 'student city' of Portugal, famous for (perhaps) inspiring J.K. Rowling's wizard robes in Harry Potter, and also for its very good local cuisine.
Évora This city dates from the Roman times, and has a large variety of cultural and historical places, being also known for the famous 'Alentejo cuisine' a staple of Portuguese cuisine and guaranteed to leave with a full stomach wherever you eat.
Where to go if I want to take swim?
My favorite beach in Portugal, is a beach called: Cordoama (pictures don't do it any justice), not very famous and not very touristy. Huge Atlantic beach, where sometimes you feel that you are the only one there.Lack of infrastructure and no mobile connection of any sort, make for a very wild but rewarding beach experience.

If you are looking to warmer waters, than you can't go wrong with the whole south coast of Portugal, also known as the Algarve. My recommendations for beaches in Algarve would be:
Praia Verde
Praia Salema
Praia de Vale do Lobo
Which dishes should I try?
My favorite topic, I will try to be direct and not get lost on recommendations.
Meat:
Cozido à Portuguesa Not for everyone, but hugely traditional. A collection of various meats, vegetables and cold meats, all boiled in the same water as the rice (with which is served). If you are in need of a full stomach, and preferable to share.
Bifana/Prego The Portuguese hamburger. It´s basically steak on a bun, Bifana is a pork steak, Prego is a beef steak. Both good for accompanying a cold beer, but also just to eat on the go.
Fish:
Arroz de Marisco It´s a seafood rice (very important to pick a good restaurant, or else you might feel ripped off). It should contain a variety of seafood and fish, accompanying with rice.
Any (wild) grilled fish Portugal is truly blessed for having such a big variety of fresh fish available, and almost anywhere you can eat it fresh (perhaps try to eat this, closed to the coastline for a higher guarantee of freshness). Also, if possible, give preference to the wild caught fish, for enhanced flavor.

Any seafood I stand my ground when I claim there is very little competition when it comes to the sea creatures than inhabit the coast of Portugal. Maybe it´s the Atlantic ocean waters combined with a stream of the Mediterranean sea, that make for the seafood to have such a good taste. My highest recommendations go to: Carabineiros (a very red and big prawn), Percebes (cannot describe it to you, without having a PG rating, but it tastes like the sea and is very highly sought after) and finally, Amêijoas à Bulhão Pato (clams in a divine, white wine, garlic, lemon and olive oil sauce)
For more adventurous people:
Snails I´m not the biggest fan, but the sauce in which it´s cooked is very good. It´s a hugely popular summer treat in Portugal.
Fried Moray Eel A Southwest coast delicacy, this ugly sea creature is very good when served fried.

Cabidela Rice A rice stew, served with fresh blood from whichever animal its made from (usually chicken, but it can be beef). The Cabidela Rice is very vinegary, but it´s a staple of Portugal´s norther cuisine and you can´t call yourself Portuguese, if you have never tasted at least once.


Which phrase to learn?
Just basic politeness will get you a long way. So the very basic should be enough."Olá, tudo bem?" - Roughly translates to "hello, how are you?" it´s a very common greeting in Portugal.

Obrigado – Translates to "thank you"

More particular expressions:​​​​​​​

Nem que a vaca tussa – Translates to "not even if the cow coughs", meaning "not a chance".

Pedir a dolorosa – Roughly translates to "asking for the painful one". This is used when you ask for the bill in a restaurant.

Dose para cavalo – Translates to "Dose for a horse", meaning that is a very big portion (usually of food)

Comer muito queijo – Translates to "eat a lot of cheese", which means to be very forgetful of things.

And one of my favorites, immortalized by the great José Mourinho:

Os cães ladram e a caravana passa – Translates to "the dogs bark and the caravan goes by", meaning that you are unaffected by criticism.

Off the record: Viva o Benfica -Translates to "Hail Benfica", which is a football team in Portugal (actually the team I support), this might seem random, but its guaranteed that if you say this as a foreigner, it will almost certainly grant you a free beer or any sort of friendly offer (unless you say it to a rival fan, but Benfica fans are 6 million in a country of 10,3 million, so the odds are in your favor).