Maria's guide to Romania
If you are planning a trip to Romania, this article is must-read. Here, Software Developer and native Romanian Maria Buda gives us her recommendations and best travel advice when visiting Romania – including beautiful mountains, thermal bathes, Dracula and a cemetery with jokes on the gravestones.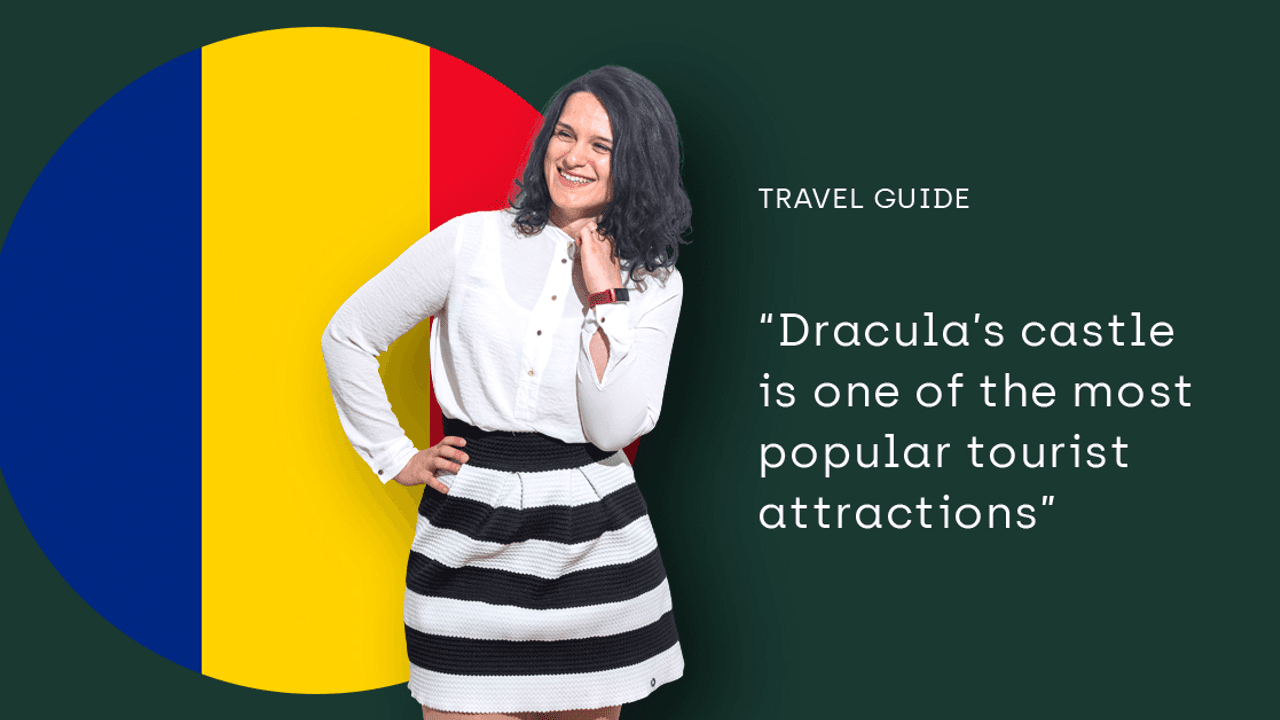 What places are a must-see?
When it comes to visiting Romania, it is a good idea to focus on a region or two (out of six) and research the attractions in that region. From the top of my head, I would recommend the following attractions/experiences:
The Decebal statue is a mountain, which has sculpted the portrait of the last king of Dacia (it sounds a bit weird, because we all know Dacia as a car brand). It is the highest stone sculpture in Europe. In the same neighborhood there are a couple of trails for hiking and you could mix it with a boat ride on the Danube river.
Transfagarasan is a mountain road meant for people that prefer an engine type of adventure. It has become more well know after the Top Gear guys labeled it the "world's greatest driving road".
Dracula's castle is one of the most popular tourist attractions in Romania. And if you drive all the way into heart of the country, it is worth visiting Brasov city center, which will add a cozy vibe to your trip.
The Sphinx of Bucegi mountains is an attraction that is appreciated by the mountain lovers. Again, is a good idea to mix it with some other hiking around that area. Baile felix is an area known for thermal water, which is often used for treating rheumatism. The water can be 40+ degrees, so it might not be for everyone. On the same trip you can visit the Bihor mountains to have a good hike and visit some caves: bears cave, crystal cave, etc. Sighet prison is worth checking out if you are into history, communism or learning torturing techniques. And to lighten up the trip, it is worth visiting Merry Cemetery of Sapanta (Cimitirul vesel). It is a cemetery that has jokes written on the gravestones and crosses. But since the jokes are in Romanian, it could be helpful having a local guide along.
Voronet Monastery is one of the colourful churches listed on the UNESCO list of world heritage sites. There are a couple of other churches in the neighborhood with a similar style.
Danube Delta (Delta Dunarii) is a unique nature experience for people that appreciate nature, water, a remote and quite spot with emphasis on wild animal habitats.
The Parliament's palace is one of the biggest achievements of the communist era. It could be an attraction for communism fans looking for a city trip to Bucharest.

Where should I go if I want to take a swim?
The most common city known for swimming at the black sea is Constanta. It has a couple of beaches: Mamaia, Costinesti, Euforie, Vama veche etc. Vama veche is the sweet stop for party animals. If you are in Bucharest and you want to swim, it is worth trying out the aquapark Therme Bucuresti.
Which dishes should I try?
Mititei – it tastes better than it looks, so don't be fooled. It is a combination of different spiced meats, rolled in a sausage form.
Ciolan afumat cu fasole – is smoked pork meat with beans.
Placinta cu cartofi – it is a combination of dough and potato. It is something specific to the Bihor area. Similar to Hungarian langos if you tried those before.
Sarmale – in a mix of cabbage, rice and minced meat.
Ciorba de perisoare – soup with meatballs.
Baton de ciocolata, colac, gomboti – they are different desserts widely known among Romanians.
Which phrase should I learn?
"Nu vorbesc limba romana. Engleza?". The good news is that Romanian is easy to read. So, if you have a message (google translate text) written down, just do your best to read every single letter and there is a very high chance the people will understand what you are trying to say. For better planning of your trip check out this website.