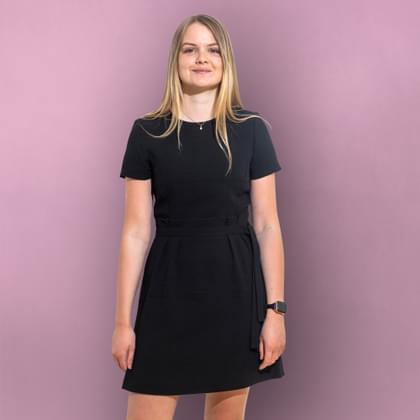 Business development
Pauline Rothe Jensen
Business Developer
Education
Technology Based Business Development
Fun fact
I've worked on the first Danish F-35 fighter jet, yet I'm afraid of butterflies
My background
I was born in Copenhagen and have since then lived in Germany and the US, but Aarhus is the city where I have lived the longest and therefore it feels like home. I have a bachelor's degree in Mechanical Engineering and a master's in Technology Based Business Development from Aarhus University. As part of my master's degree, I spent a semester abroad working for Lockheed Martin in Texas before joining DC.
Why I wanted to work for DC
I wanted to work in a young and dynamic atmosphere, where you get the responsibility and opportunity to be able to make a difference. DC also has a strong focus on people development and helps me further develop my skills within different fields such as programming and problem-solving.
What I do
I'm a business developer in Climate Markets at DC, however my role is quite versatile and involves business development, proprietary trading and portfolio management of biomethane and biofuels. Besides this, our team is continuously on the lookout to develop our business areas, which entails monitoring current developments in various technologies and climate products that can further contribute to the green transition of society.
My typical workday
You may have heard this before, but there isn't really a typical workday. My day frequently begins with getting an overview of developments in ongoing collaborations and trades with counterparties. Some days are packed with meetings or urgent matters to follow up on, while other days leave me more time to conduct different projects and analyses. In Climate Markets we trade quite unique products and therefore we are in close contact with different stakeholders throughout the organization on a daily basis - such as legal, risk and credit, which demands good stakeholder management.
The best part of my job
I'm surrounded by highly dedicated and talented colleagues which keeps me motivated each day. When working with trading, there are always unforeseen events that make every day different from the other which keeps the job interesting and challenging.