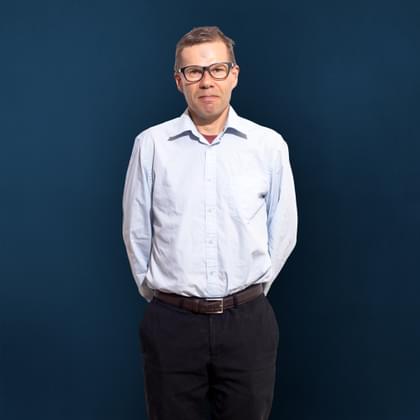 Business development
Tarjei Kristiansen
Senior Market Analyst
Education
PhD in Electrical Power Engineering
Fun fact
I grew up in the Arctic Circle in Norway and have experienced both midnight sun and northern light
My background
I am a Norwegian citizen who has worked in multiple countries including Norway, Germany, the UK, Brazil, Denmark and the US. I have lived in cities such as Bonn, London, Rio de Janeiro and Houston. It has been a great experience to work outside Scandinavia, but I realise that we have it good here. I have completed a PhD on Risk Management in Electricity Markets focusing on financial transmission rights at the Norwegian University of Science and Technology. Since then I have worked with power market analysis and modelling for various trading companies. It is a topic that also interests me personally since I have published numerous journal papers on electricity markets.
Why I wanted to work for DC
I appreciate that DC is a power trading company which we do not have many of in Norway. I also like that DC is expanding its global footprint. I eyed the opportunity to work with the Brazilian power market again since I knew Equinor was active there since the early 2000s.
What I do
Currently I am working in the Commercial Business Development unit as a Senior Market Analyst focusing on market analysis and modelling of the Australian and Brazilian power markets. We participate in auctions for Australian financial transmission rights and I am involved in the valuation of these as well as identifying fundamental drivers of power prices. We are not active in Brazil yet, but I have developed some tools and forecasting models which can be used for trading decision support. I am also supporting the building out of analytics so that we can be ready when DC enters the Brazilian power market in partnership with Equinor which has ambitious plans for renewable investments there.
My typical workday
We have a daily morning team meeting. Besides this my workday can differ a lot. I have some regular presentations and meetings which I attend but aside from these, my tasks vary considerably. I am coding in Python, running our power market models and conducting various power market analyses. It entails looking into the fundamental data and simulations and what it means for power prices and our trading strategies and investment decisions.
The best part of my job
I enjoy working with power markets and being part of a team that is identifying commercial opportunities globally. I am curious person by nature, so I appreciate to learn about new markets and emerging technologies. I also like that we interact with Equinor and support them as advisors.